Welcome to Hutchins Systems, Inc.
Metro 2® Credit Reporting Software for
all National Credit Bureaus.
Since 1986, Hutchins Systems, Inc has been the industry leader and expert in consulting for many companies on Metro 2® format, credit data processing and development of credit bureau reporting software.
Our Credit Time 2000® Metro 2® Credit Reporting Software allows any businesses to report consumer credit accounts and business commercial accounts to all of the national credit bureaus - Equifax, Experian, Innovis and Trans Union. We also support Metro 2® Credit Reporting to real-time credit bureaus with national coverage of alternative credit data.
Please read our Testimonials to see what our customers have to say about our company and Credit Time 2000® Metro 2 Credit Reporting Software.
Credit Time 2000® is recommended and accepted by all the National and Alternative Credit Bureaus.

EZ File Upload
Our customers can use our convenient upload tool to make reporting fast and easy!

Widely recognized as the industry leader, CoreLogic® Credco® processes millions of credit reports annually across a diverse customer base. When a credit report is pulled within the Hutchins Systems Web Site, it is processed through the CoreLogic® Credco® computers. Sign Up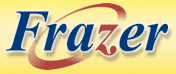 Frazer Computing strives to provide the best service in the car dealer software industry.